Market research company iSuppli has released a few numbers from a new report that predicts continued growth in the market for netbooks and notebook PCs...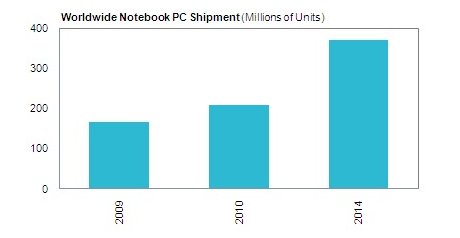 US-based market research company
iSuppli
is predicting that sales of netbooks and CULV (Consumer Ultra-Low Voltage) notebooks will do well this year.
iSuppli expects netbook shipments to grow by 30% to 34.5 million units in 2010, and to reach 58.3 million units in 2014.
Acer was the biggest netbook manufacturer in 2008 and 2009, and shipped 9.8 million units last year to take 37% of the market, it says. Asus was second, after shipping 5.5 million netbooks. The other Top 5 manufacturers for 2009 were Hewlett-Packard, Samsung and Dell, in that order. iSuppli says that: "Together, the Top 5 accounted for 90% of the market."
The company reckons that CULV notebooks, which are thin and offer long battery life, "will ship nearly 14.5 million units in 2010, a staggering 93% increase from 7.5 million units last year." (CULV notebooks are a new category and start from a low base.)
Acer was the biggest supplier of CULV notebooks last year, shipping about 5m units. Asus was second again, shipping about shipping about 700,000 units. Acer sells the Timeline range of CULV machines while Asus's models include the UL30 and UL50.
iSuppli predicts that total notebook shipments, including netbooks and CULV ultraportables, "will hit 209.5 million units in 2010, up a robust 25.5% from 166.9 million last year."
It predicts notebook shipments of 371.5 million units in 2014.